by TED NUYTEN Posted on BusinessForHome.org NOVEMBER 13, 2015
After the news broke Randy Gage left Agel, he annnonced in a video to have signed up for FuXion, the Latin America Bio Tech company.
FuXion is headed by CEO Alvaro Zuñiga Benavides.
In a recent interview Alvaro said:
"FuXion is a young and passionate food manufacturing company that markets and sells high quality food supplements extracted from selected super-fruits and vegetables from Andean, Amazonian and Oriental origins.
Our name "FuXion" comes from the "fusion" (or combination) of millenary knowledge from ancient cultures with modern science and technology to develop a unique product and service offering to improve the overall wellbeing of people, through body, mind and spiritual nutrition.
Since our origins, we decided to commit to a direct sales model in order to reach out, develop and engage customers with our "True Health" value proposition, which aims at improving our customer´s physical, emotional and financial health, thus our tag line, "We Improve Your Health".
FuXion is present in 12 countries, including Perú, Ecuador, Colombia, Venezuela, Chile, Bolivia, Costa Rica, Panamá, Nicaragua, Guatemala, México and the United States, where we have been present since 2014 and we will formally launch our operations during the fourth quarter of 2015.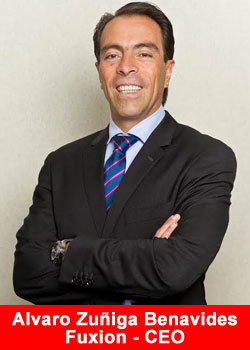 Our plans include to open Argentina and Brazil in Latin America during the next 12 months while initiating our European operations in Spain next year while starting to explore other international markets for 2017.
We have almost 50,000 distributors in all this countries, supported by close to 600 staff members in all 12 countries and our consolidated sales figures in 2014 were US$ 80 million, with Perú, Ecuador, Colombia and Costa Rica explaining more than 60% of our sales.
For 2015 we expect to grow again by more than 50%. We expect to reach sales in excess of US$ 500 million in the next three years to 2018."